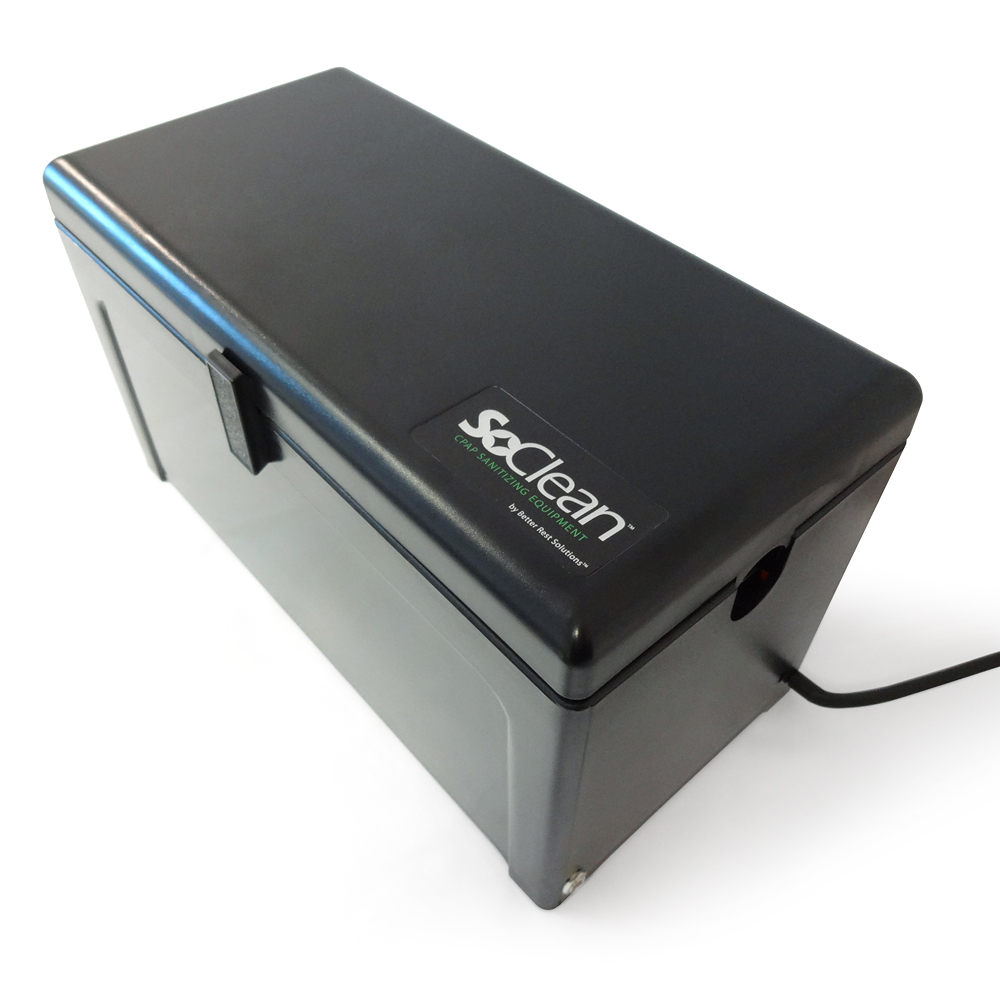 FAQs
The SoClean is a revolutionary CPAP sanitizing device. Safe, automated, and easy to use, the SoClean requires no disassembly of CPAP parts. It uses activated oxygen to effectively sanitize the CPAP mask, hose, and reservoir.
Not at all. Three simple steps, and you're ready to go:
1. Make the easy one-time connection to your CPAP equipment.
2. Set the SoClean timer.
3. Place your mask inside the SoClean unit, and the machine does the rest.


The SoClean generates and pumps activated oxygen through your reservoir, hose, and mask. This activated oxygen eradicates any bacteria, mold, virus, or fungus it comes in contact with.
Activated oxygen is formed when a third atom of oxygen (O) is added to the molecular oxygen we breathe (O2) forming a new molecule (O3). This new molecule of activated oxygen (also known as ozone) has the amazing ability to destroy organisms such as bacteria and viruses through oxidation. While activated oxygen is very powerful, it also has a very short life cycle. After it's generated, it reverts back into the oxygen we breathe in about 2 hours.
While some might mistakenly refer to ozone as smog, the two are distinctly different. Unlike pure ozone, smog contains a mixture of various toxic hydrocarbons that have no beneficial characteristics.
No. The activated oxygen generated by the SoClean is kept within the closed loop of your CPAP equipment and the secure chamber of the SoClean device. Any released during the sanitizing process passes through an output filter that reverts it back into the oxygen we breathe.
Activated oxygen is used extensively in Europe as a sanitizer. In the US, activated oxygen is used in many municipal water purifacation operations. It's also used to treat produce and grain, to discourage mold growth. Homes subject to smoke damage often make use of activated oxygen to remove hard to eliminate odors. The hotel industry and hospitals also use it to sanitize on a whole-room scale.
Prior to the first use of your SoClean, wash your mask, hose, and reservoir using the Neutralizing Pre-Wash. This is done only before your first use, or when you introduce new equipment to you CPAP system. Use the pre-wash with water, in the same way you would use dish soap, to clean your equipment..
The SoClean chamber measures 8"L x 5"W x 5"H, which allows for nearly every mask style, from nasal pillow to full-face. In the rare event that your mask does not fit inside the SoClean chamber, Better Rest Solutions offers a 30 day money-back satisfaction guarantee.
Yes. If you have a heated hose powered by your PAP machine (such a heated hose on the ResMed S9, Philips Respironics System One 60 Series, Fisher & Paykel 600 series or Fisher & Paykel Icon) you will need a special adapter. If your heated hose is externally powered, you do not need any adapter.
We recommend that you set the SoClean to run anywhere from five to fifteen minutes–fifteen minutes being the maximum amount of time the SoClean 1 should be allowed to run. However, it is important to leave your mask inside the chamber for at least two hours following the machine operation, as this is part of the sanitizing process.
A strong scent can occur if your equipment has not been treated with the Neutralizing Pre-Wash included with your system. It can also be a sign that the duration of your treatment is too long. Try lowering the duration of your treatment. If you still feel that the scent is too much, you can opt to run the treatment every other day.
Generally speaking, the materials used in CPAP components and accessories (such as polycarbonate and acrylic) are compatible with ozone. However, activated oxygen will oxidize some materials like nylon and latex, causing deterioration. Nylon and latex are not usually present in CPAP equipment. If you have any doubt, please check with the manufacturer of your equipment.
Yes. Please call us at (866) 501-3705.
Not at this time. SoClean is not covered by insurance, Medicare, or flexible spending accounts.
If you are not satisfied with your purchase, please contact customer service at (866) 501-3705. A representative will be available to assist you Monday through Friday, 8:30am–5pm EST.
SoClean 2 is an updated version of the original SoClean machine. SoClean 2 uses the same sanitizing process and connects to your CPAP the same way as the original. SoClean 1 is no longer available for purchase. For more information, take a look at the
SoClean Features Comparison
page.
Additional Video Tutorials
Need a little extra help?
We are here for you! Call us at 866-501-3705 or use the contact button to send us an email.