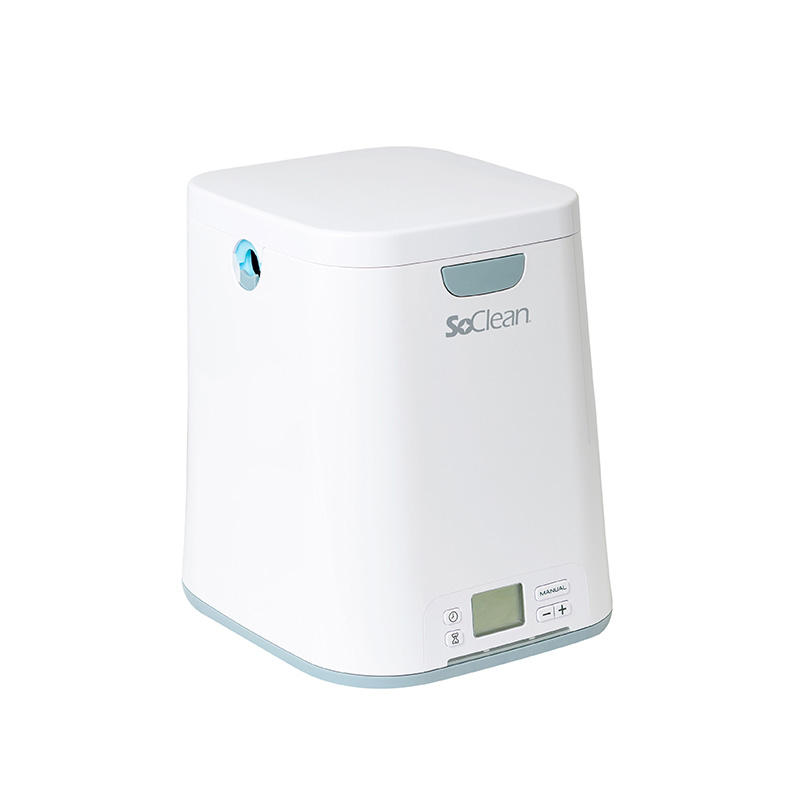 Do you need help setting up your SoClean 2? Our Customer Care team can help you out! Call us Monday through Friday: 8:30am - 6:30pm est. at 866.501.3705. You can also send an email to info@soclean.com.
FAQs
The SoClean 2 is the fast, easy way to clean your sleep equipment. The SoClean 2 uses Activated Oxygen (ozone) in order to maintain your sleep equipment daily with no disassembly and no water.
The Neutralizing Pre-Wash can be used prior to the first use of your SoClean 2 or when introducing new sleep equipment to your system. You can also use the Pre-Wash to clean the parts of your sleep equipment regularly as recommended by the manufacturer. The Pre-Wash is a fragrance-free cleaning solution that neutralizes any pre-existing odors from detergents and removes any residue from the manufacturing process. You can find step-by-step instructions here.
The SoClean 2 runs a 7-minute cycle plus a 2 hour rest period. This ensures proper maintenance of the equipment and the rest period allows the Activated Oxygen (ozone) to convert back into regular oxygen.
Some users can smell Activated Oxygen (ozone) at extremely low levels and for these people it is not uncommon to smell ozone for a short period of time during and after running their SoClean 2. If it's a very strong odor or you have noticed it getting stronger over time, please contact customer care at 866-501-3705 and we can help identify if there is an issue with your SoClean.
At this time the SoClean 2 is not covered by health insurance as it is considered a luxury item. SoClean 2 is eligible for FSA and HSA reimbursement, and you can use your FSA or HSA debit card on soclean.com, if all items in your cart are FSA/HSA-eligible. We also offer an installment loan option with monthly payments through Bread Financing, which you can learn more about here, as well as SoClean Easy Pay, which lets you spread your purchase over 4 easy credit card payments. More information about SoClean Easy Pay can be found here. If you have questions about either, you can contact customer care at 866-501-3705.
The SoClean 2 is an updated version of the original SoClean machine. The SoClean 2 uses the same cleaning process and connects to your equipment the same way as the original. The SoClean 1 is no longer available for purchase.
The SoClean 2 is easy to use. Once you make the one-time connection to your equipment, all you need to do is place your sleep equipment into the SoClean 2 Chamber, close the Lid and let the SoClean 2 do the rest. *Prior to first using your SoClean 2, we recommended using the pre-wash to clean your equipment of any facial oils or organic materials. If you would like additional information about setting up your SoClean, please contact customer care at 866-501-3705.
The SoClean 2 connects to all popular sleep equipment and some do require an adapter. If you have any questions about your particular sleep equipment, please contact customer care at 866-501-3705.
You can reset the display screen by holding down the hourglass button and manual button together until you see a smiley face icon appear on the display screen. When you see the smiley face icon, the message has been cleared and reset.
Yes. Please call us at (866) 501-3705.
If you are not satisfied with your purchase, please contact customer care at 866-501-3705. A representative will be available to assist you Monday through Friday, 8:30am–6:30pm EST.
If you don't have the correct adapter or are having trouble installing your adapter, please contact our Customer Care team at 866-501-3705, Monday through Friday, 8:30-6:30:00pm EST, and we will be happy to help you.
Need a little extra help?
We are here for you! Call us at 866-501-3705 or use the contact button to send us an email.
Contact Us