Save $100 on SoClean 3 for Sleep Equipment!
Plus, Try it Risk-Free and Get Free Shipping.
There's nothing quite like a great night of sleep. Say thank you to your hardworking sleep equipment by maintaining it at the highest level. Soap and water are a start, but are they enough? Including SoClean 3 in your routine gives you the peace of mind that you're taking the best possible care of your equipment—and yourself.
FREE
SHIPPING
30-DAY
FREE TRIAL
2-YEAR
WARRANTY
UNLIMITED
SUPPORT
A Helpful Complement to Your Daily Routine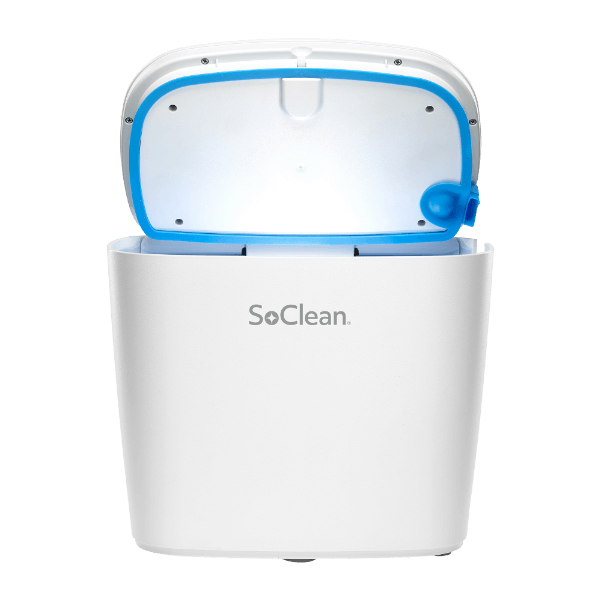 No Water or Disassembly
Easy one-time setup. Connects with all popular types of sleep equipment.
Technology You Can Trust
SoClean 3 blends the beauty of science with the power of nature for unparalleled maintenance.
Space-Saving, Functional Design
Enjoy elevated functionality -- including a spring-loaded lid -- in a compact design that leaves plenty of space on your nightstand.
Durable, Spring-Loaded Lid
Lids can be hard to open--and keep open. That's why we designed the SoClean 3 with a durable, spring-loaded lid that opens automatically--and stays open--while you put your sleep equipment in the chamber. No frustration, no fumbling. Because sometimes it's the little details that can make the biggest difference.
USB Charging Port
Bedside power outlets occupied? No problem. Power your phone from your SoClean 3! With the convenience of the SoClean 3 USB port, you don't have to choose between maintained sleep equipment or a charged phone. You can have both!
Designed With You In Mind
Large illuminated buttons and easy-to-read LED display takes the guesswork out of operation.
Like to plan ahead? Start a cycle immediately or delay the cycle by two, four, or eight hours.
Forget to run a maintenance cycle? No problem! You can trust your sleep equipment will be fresh and ready to use with the Fresh Air feature. Use it before you go to bed or in between cycles to refresh the air in your sleep equipment. It takes just 5 minutes!
Our Devices Help Provide Peace of Mind for Millions
No need to disassemble sleep equipment every day, and it's 100% waterless.
Press a button and go. SoClean 3 runs automatically when you place your equipment inside the chamber, close the lid and press start!
Easy one-time setup. Compatible with all popular types of sleep equipment.
Sleep Soundly
With SoClean 3
SoClean 3 naturally maintains every part of your sleep equipment. Use it in the morning when you wake up so you don't have to worry while you sleep.
One Touch Maintenance
No disassembly required. SoClean 3 automatically starts when you place your equipment in the chamber, close the lid and press start!
SoClean 3 Complete Bundle
Try the SoClean 3 Complete for special bundled savings! Includes the SoClean 3, our two top adapters, an additional Filter, Unscented Wipes, and an 8oz. Bottle of Prewash. This specially-curated selection has everything you need to keep your sleep equipment fresh.
Shop Now
SoClean® 3 enhances your daily routine giving you peace of mind knowing that you're taking the best possible care of your equipment—and yourself. No fuss, no mess, no worry. Just pop it in and go. At bedtime you can trust that your sleep equipment is fresh and ready to use. Includes our two top adapters in the box!
Included With Your SoClean 3 Purchase:
1 SoClean 3 Machine
2 Top SoClean Adapters
1 Pre-Wash (1.5oz) (for cleaning equipment prior to first use)
1 Filter (6 month replacement schedule; genuine SoClean replacement filters are available here.)
1 Universal Power Supply
30-Day Risk-Free trial. See Details.
---
SoClean 3 Features:
Functional design with spring-loaded lid
Small space-saving footprint
5-minute fresh air cycle
USB phone charging port
Cycle start delay option
Automatic detection of expired, missing, or counterfeit Filter
Indicator icons throughout the cycle
Illuminated buttons and chamber
SoClean 3 Benefits:
Provides peace of mind
Easy-to-use, time-saving operation
No daily disassembly required
SoClean 3 is 100% waterless
SoClean Labs patented next-generation technology
---
Contraindications for use: Persons with underlying lung diseases, such as asthma and chronic obstructive pulmonary disease (also known as COPD, which includes emphysema and chronic bronchitis), and those with cardiovascular disease may be sensitive to ozone and should consult with their health care professional before using this product.
SoClean 3 requires that you change the Filter approximately every six months.
Replacement Filters can be
purchased here
.
| | |
| --- | --- |
| SKU | SC1400-SBL |
| UPC | 00858242008090 |
Support Information: See the User Manual, Setup Videos, CPAP Cleaner FAQs, and Warranty Information on the SoClean 3 Support Page.
What's In the Box?
1 SoClean 3 Machine
2 top SoClean Adapters
1 Pre-Wash (1.5oz) (for cleaning equipment prior to first use)
1 Filter (6-month replacement schedule)
1 Universal Power Supply
2-Year Warranty
30-Day Risk-Free Trial