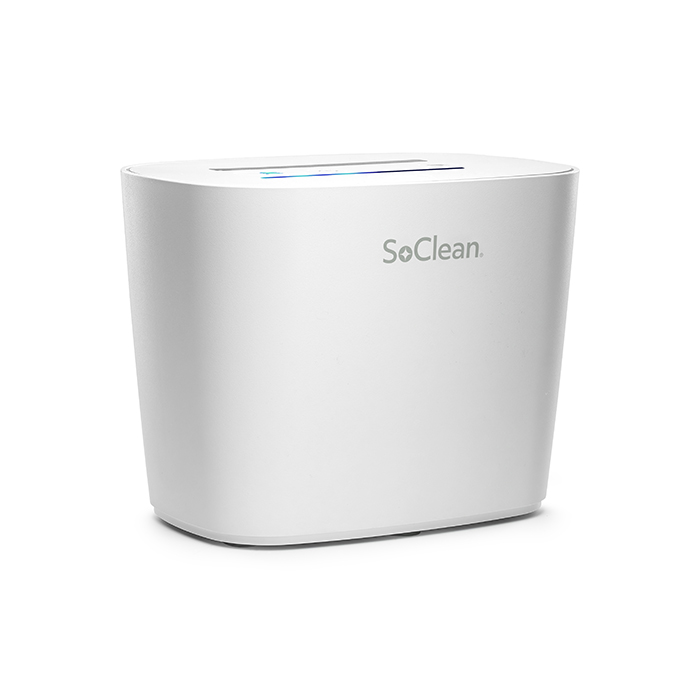 Do you need help setting up your SoClean 3? Our Customer Care team can help you out! Call us Monday-Friday: 8:30am - 9:00pm ET, Saturday: 9:00am - 1:00pm ET at 866.501.3705. You can also send an email to info@soclean.com.
FAQs
At this time the SoClean 3 is not covered by health insurance as it is considered a luxury item. SoClean 3 is eligible for FSA and HSA reimbursement, and you can use your FSA or HSA debit card. We also offer an Easy Pay option, which lets you spread your purchase over 4 easy credit card payments.
The SoClean 3 is compatible will all different masks and headgear. However, some head gear includes nylon, memory foam or natural rubber, which are not compatible with ozone. For this reason we recommend removing head gear that contains nylon or natural rubber. For questions regarding the materials in your headgear, please contact your medical equipment provider or the manufacturer.
Yes, the SoClean 3 utilizes an advanced O3 System Generator to activate ambient oxygen, turning it into ozone, one of the most potent disinfectants. Activated oxygen naturally kills harmful bacteria and viruses.
No. If you find organic matter on your items, such as dirt or oil, we suggest using our dye-free, fragrance-free Pre-Wash to clean your sleep equipment before placing it into the SoClean 3 chamber.
The SoClean 3 no longer has a visible check valve that needs to be changed with the filter. The check valve has moved within the unit, and additionally there is a back up PTFE membrane filter in the unit to preventing the water from entering the SoClean 3. In addition, no side slot plug is required with the SoClean 3. There is only one hose slot, where your hose must rest and lid closed in order to run a Maintenace Cycle.
The Cycle Delay button is used to set a 2, 4, or 8 hour delay to the start of your Maintenance Cycle. Or if you prefer, you can use the Maintenance Cycle button to immediately start the maintenance process with a single push.
At the end of the "Maintenance Cycle", the Cycle Complete icon will light up green. You can now press the Lid Open Button and remove your mask.
No, the Fresh Air Cycle does not maintain your sleep equipment. It is intended to freshen the sleep equipment after running a Maintenance Cycle. The Fresh Air Cycle can be used 3 times before a Maintenance Cycle is required.
No, the Fresh Air Cycle cannot be canceled, or the Lid be opened during the cycle itself. You will be able to open the Lid when the Cycle Complete icon illuminates green.
The Filter converts ozone in your SoClean 3 and sleep equipment accessories into fresh oxygen as it exhausts from the unit. This component must be replaced every 6 months. Your SoClean 3 will remind you when it needs to be replaced.
There is no filter timer reset necessary with the SoClean 3 as the unit detects the filter being replaced. Each filter contains a microchip and the SoClean 3 will reset itself.
Philips listed several potential factors that could have affected the sound abatement foam in their products, such as high heat, high humidity and the use of ozone. A singular cause has not yet been determined. SoClean remains confident in its product and encourages users to continue the use of their SoClean machines with the appropriate sleep equipment. Philips users should resume use once Philips has resolved their foam issue.
The SoClean 3 connects to all popular sleep equipment and some do require an adapter. If you have any questions about your particular sleep equipment, please contact customer care at 866-501-3705.
The SoClean 3 is compatible with all popular types of sleep equipment, and you're ready to go after an easy one-time setup. We have included adapters for the most common sleep equipment. If you have questions about compatibility with your specific sleep equipment, please call Customer Care at 1-866-501-3705.
The SoClean 3 will not remove facial oil, dust, makeup or other organic materials. Please follow your manufacturer's recommended instructions for periodic washing to remove any residue that naturally occurs.
The SoClean 3 is designed and tested for use at home with sleep equipment only.
There is no power button on your SoClean 3. The device was made to power "on" when the Power Adapter is plugged into your SoClean 3 and the AC wall socket.
The SoClean 3 can be used daily to maintain your sleep equipment accessories. The Maintenance Cycle is approximately 1 hour and 15 minutes.
Yes, you can cancel the Maintenance Cycle at any time regardless of where your SoClean 3 is in the process of maintenance. The SoClean 3 will pump air through the system for approximately 12 minutes after the Maintenance Cycle is canceled in order to clear ozone from your sleep equipment. The Lid will remain locked until the cancellation is complete.
The Fresh Air Cycle will take approximately 5 minutes to complete. During the Fresh Air Cycle, the Fresh Air Cycle button will illuminate blue to indicate the Fresh Air Cycle is operating. The Progress Bar on the Control Panel will progressively illuminate blue as the cycle proceeds to completion.
To reorder supplies (SoClean 3 Filters, Neutralizing Pre-Wash, Unscented Wipes), contact your authorized reseller or visit SoClean.com. Please note: Your SoClean 3 device has been designed to work only with authentic SoClean 3 Filters. You will not be able to operate your SoClean system with an inauthentic SoClean 3 Filter.
When it is time to replace the filter, a flashing amber filter icon will appear on the control panel. This indicates that it is time to order a new Filter. The icon will flash amber only when you interact with your SoClean. From the time it begins to flash amber, you have 30 days or 30 uses (whichever comes first) to replace the Filter. NOTE: You can still use your SoClean 3 to maintain your sleep equipment accessories during this time.
The USB charging port on the SoClean 3 will provide 0.5 amps of current at 5 volts. As a result, it is intended for smaller items, such as cell phones and will not work well for charging larger devices.
Need a little extra help?
We are here for you! Call us at 866-501-3705 or use the contact button to send us an email.
Contact Us