A Guide to Changing Your SoClean Filter
What Is a SoClean Filter?
At this point you're aware that SoClean's advanced technology allows any user with a sleep disorder to maintain their sleep equipment without messy chemicals.
The Cartridge Filter is a critical component in the SoClean device, performing the vital task of converting ozone ( also known as Activated Oxygen) back into regular oxygen.
How Often Should You Change Your SoClean Filter?
On average, you can expect to change your Cartridge Filter every six months with daily use, but this also depends on how frequently you run it.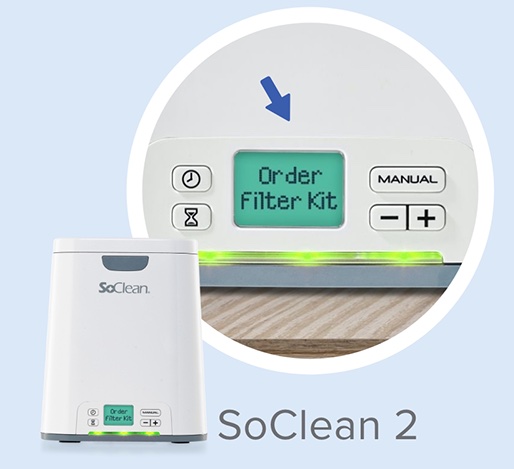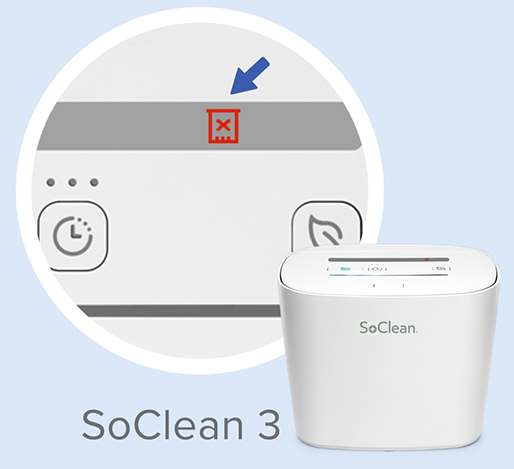 Your SoClean device will notify you when it's time to change your Filter, so there's no need to worry if you forget!
Why Does the Filter Need to be Replaced?
SoClean Filters help to keep your SoClean running properly. As with most other household items you use to keep your home environment clean, SoClean Filters are not reusable and need to be changed in order for the machine to work effectively.
What's the Difference Between SoClean 2 and SoClean 3 Filters?
There are a couple of differences between how the SoClean 2 and SoClean 3 device Filters look and are installed, but otherwise, they have the same function.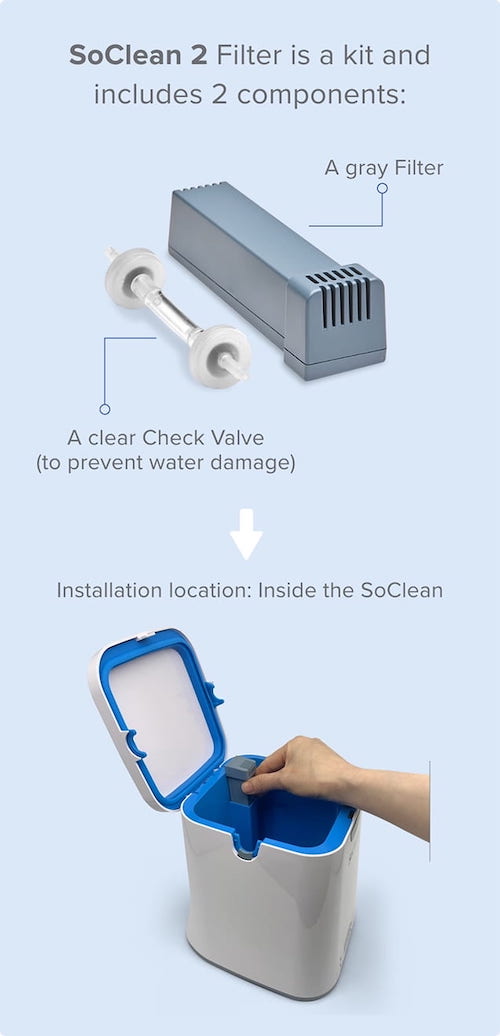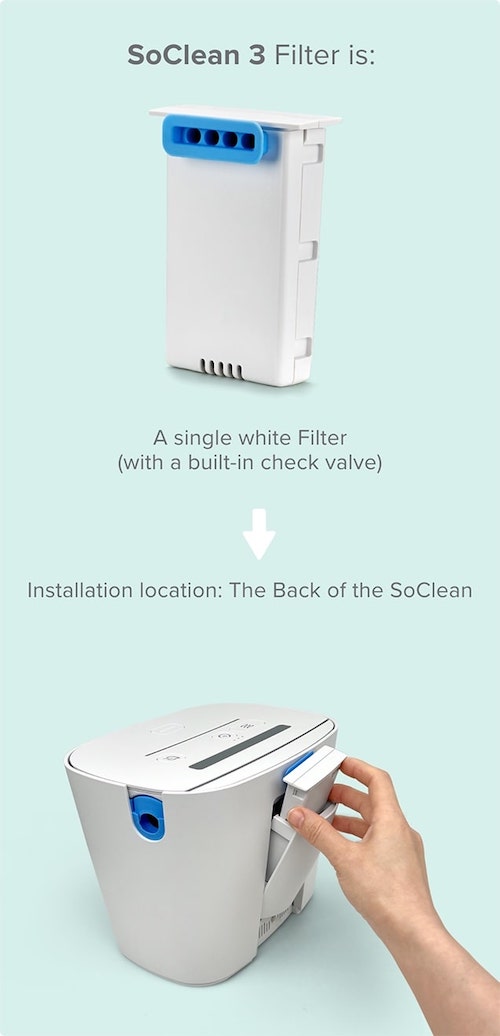 Purchasing and Installation

Purchasing Filters (as well as a variety of other SoClean supplies and related products) is incredibly easy as you can order both SoClean 2 and SoClean 3 Filters directly from us.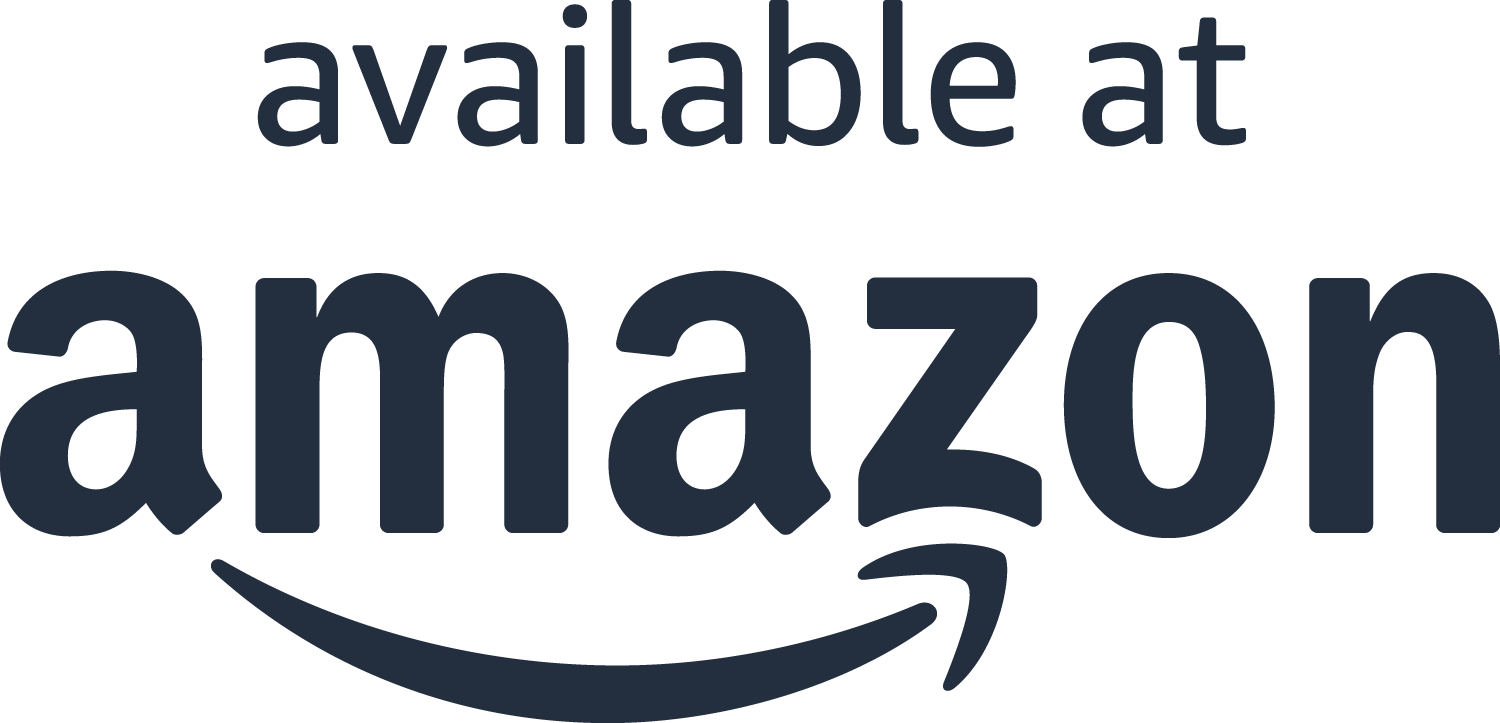 SoClean 2 Filters can also be purchased from Amazon here. However, be careful to avoid counterfeit Filters on Amazon by only purchasing from the SoClean Amazon Store.
How to Change a SoClean 2 Filter & Check Valve
The replacement Filter for the SoClean 2 is a breeze to install in just minutes.
Installation Steps
Replace the Filter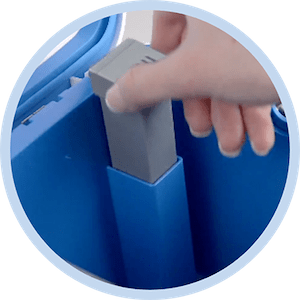 1. Remove and discard the old Filter.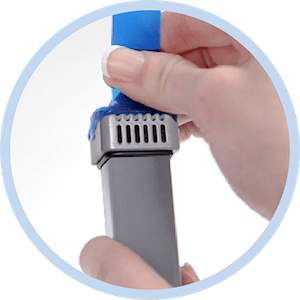 2. Remove the protective blue tape from the replacement Filter.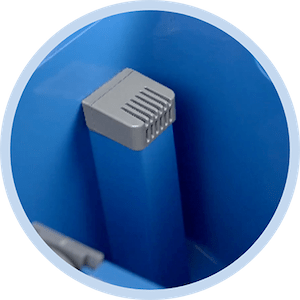 3. Install the new Filter and confirm it is fully seated in the Filter Slot.
Replace the Check Valve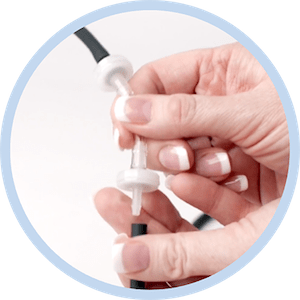 1. Grasp the barrel of your Check Valve and pull the black tubing away on each side.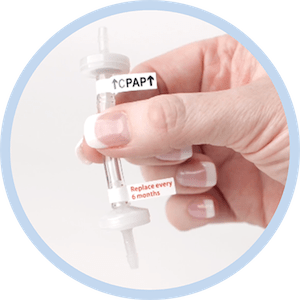 2. Position the new Check Valve so that the label with two arrows is positioned away from your SoClean and closest to your sleep equipment.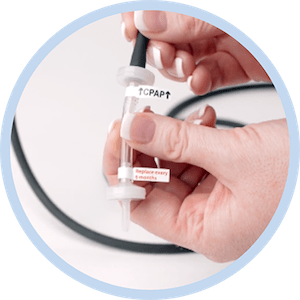 3. Grasp the barrel and insert the stem as far as possible into the end of the black tubing. Repeat for the remaining side.
How to Reset Your SoClean 2 After a Filter Change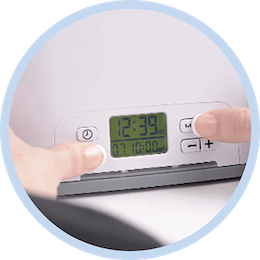 1. Once you replace the Filter and Check Valve, press and hold the manual button and hourglass button simultaneously.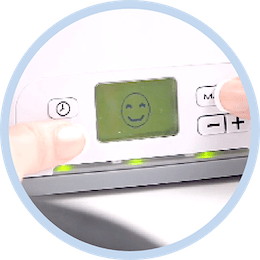 2. When the smiling face appears on the machine display, you will know your reset has been successful.
Check out this handy video tutorial,
which will walk you through these steps to replace your Filter and Check Valve.
How to Change a SoClean 3 Filter

The "
Filter Issue
" icon will flash amber to remind you to change your Filter approximately one month before a Filter replacement is needed.
The device will no longer operate the Maintenance Cycle once the "Filter Issue" icon turns solid amber. When the Filter is replaced, the device will resume operation.
The actual replacement of the Filter for your SoClean 3 takes just a few simple steps.
Installation Steps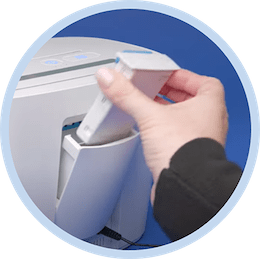 1. Open the door on the back of your SoClean 3 and remove the old Filter from the Filter Slot.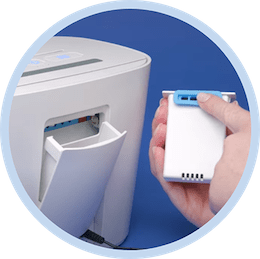 2. Insert the new Filter into the Filter Slot with the blue rubber gasket facing the Maintenance Chamber.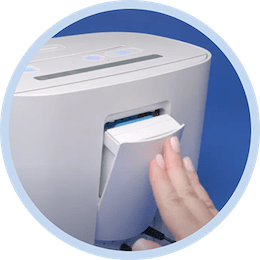 3. Close the Filter Door, and your replacement is complete.
SoClean 3 Automatic Reset After a Filter Change
Quick Guide to SoClean Filters and Check Valves
What Type of Filters to Use
The only Filters you should use in your SoClean are those manufactured by SoClean.
Where to Buy Filters
Purchasing your Filters directly from SoClean ensures the product you buy is guaranteed to work in your SoClean machine.
Counterfeit Filters (What Not to Use)
Avoid any Filters in online marketplaces usch as Amazon that do not have a link to "Sold by SoClean." These unauthorized Filters may look like our products but they are not. We can only guarantee that Authorized SoClean Filters will work with your machine.
Reasons to Purchase SoClean Filters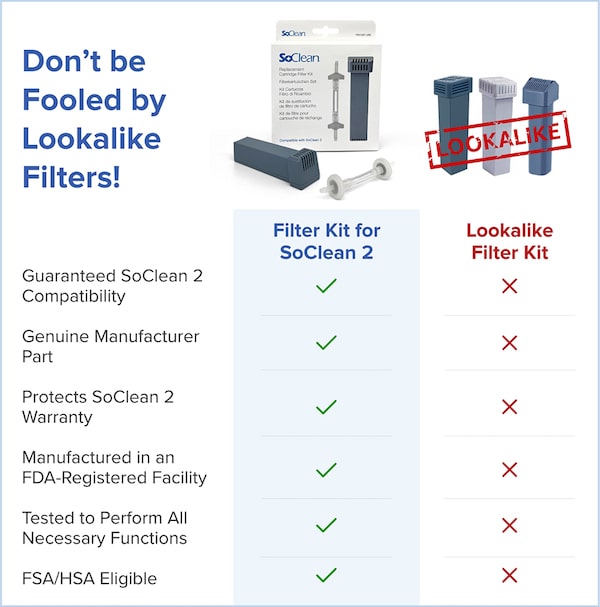 When it is time to replace the filter cartridge in a SoClean 2, you can order directly from us or an authorized retailer. When purchasing any equipment for a SoClean 3, always purchase directly from the SoClean website. This way, you can ensure you buy an authentic filter that works correctly with your SoClean machine.

If you purchase from Amazon or another online reseller, just be sure the seller is SoClean. Otherwise, you risk purchasing a lookalike or knockoff filter that will not work correctly and could damage your SoClean machine.

By ordering directly from us, you can also choose from many other useful products, including the SoClean 2 Care and Maintenance Kit and the SoClean 3 Care and Maintenance Kit, which both come with neutralizing prewash and wipes.
In general, you will need to replace SoClean cartridge filter every six months, although this can depend on how frequently you use it. This timeframe assumes you will be using your SoClean equipment daily on the default maintenance cycle. Your SoClean machine will notify you when it's time to replace the filter.
If you have any concerns about the filter you have purchased, contact our customer support team, who can help you determine whether or not you have an authentic filter.
With the SoClean 2 filter, you will also replace the check valve tubing, which comes with your replacement SoClean cartridge filter as a kit. Check your user manual to see if you have a SoClean 2 or SoClean 3 before ordering, as the filters are different.