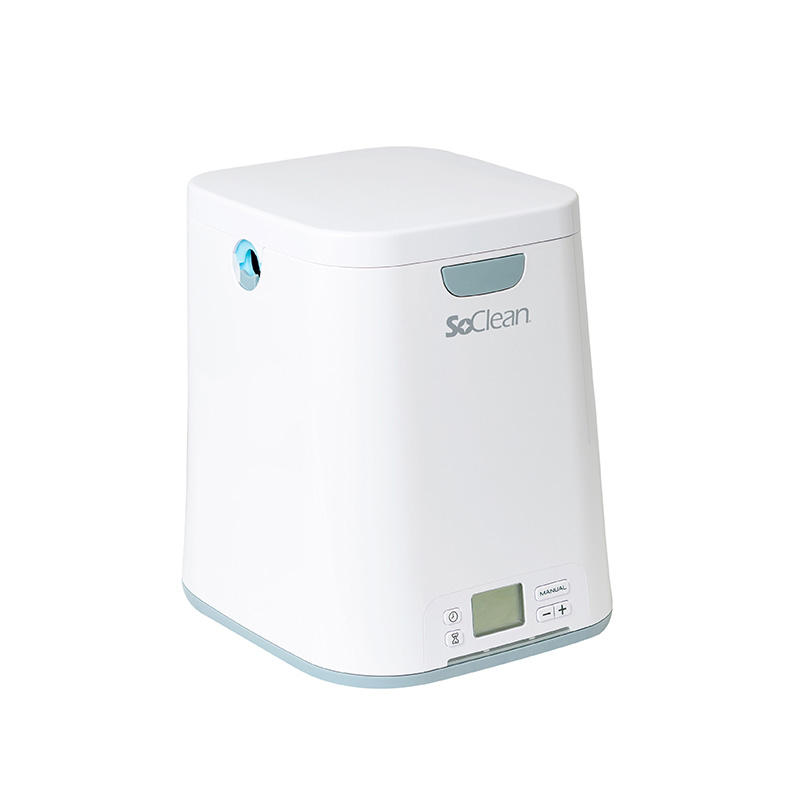 The SoClean is a revolutionary cleaning device. Safe, automated, and easy to use, the SoClean requires no disassembly of sleep equipment.

Not at all. Three simple steps, and you're ready to go:
1. Make the easy one-time connection to your equipment.
2. Set the SoClean timer.
3. Place your equipment inside the SoClean unit, and the machine does the rest.
Prior to the first use of your SoClean, wash your sleep equipment using the Neutralizing Pre-Wash. This is done only before your first use, or when you introduce new equipment to your system. Use about 1/4 of the included 1 oz bottle of pre-wash with water, in the same way you would use dish soap, to clean your equipment. A quarter of the bottle is approximately two capfuls for the 1oz bottle and one capful for the 8oz bottle.
The SoClean chamber measures 5.5" L x 5.5" W x 7.25" H , which allows for nearly all equipment to fit. In the rare event that yours does not fit inside the SoClean chamber, SoClean Inc. offers a 30 day money-back satisfaction guarantee.
We recommend that you set the SoClean to run anywhere from five to twelve minutes — twelve minutes being the maximum amount of time the SoClean will run. However, it is important to leave your equipment inside the chamber for at least two hours following the machine operation, as this is part of the cleaning process.

Press and hold the MANUAL button and the HOURGLASS button at the same time, for three seconds.
A smiley face will appear when the reset is successful.
A strong scent can occur if your equipment has not been treated with the Neutralizing Pre-Wash included with your system. It can also be a sign that the duration of your treatment is too long. Try lowering the duration of your treatment. If you still feel that the scent is too much, you can opt to run the treatment every other day.
Yes. Please call us at (866) 501-3705.
The SoClean is not covered by insurance, however, you can use your HSA or FSA account. The eligible product list number is: #9274

If you are not satisfied with your purchase, please contact customer service at (866) 501-3705. A representative will be available to assist you Monday through Friday, 8:30am–5pm EST.
The SoClean 2 is an updated version of the original SoClean machine. The SoClean 2 uses the same cleaning process and connects to your equipment the same way as the original. The SoClean 1 is no longer available for purchase. For more information, take a look at the SoClean Features Comparison page.
Need a little extra help?
We are here for you! Call us at 866-501-3705 or use the contact button to send us an email.