We believe mornings are for drinking coffee, not laboriously scrubbing your sleep equipment. Meet SoClean 2. No fuss, no mess, no disassembly. Just pop it in and go about your day. At bedtime, your sleep equipment will be fresh and ready to use.
FREE
SHIPPING
30-DAY
FREE TRIAL
2-YEAR
WARRANTY
UNLIMITED
SUPPORT
US INDEPENDENT
LAB TESTED
The Perfect Complement to Your Daily Routine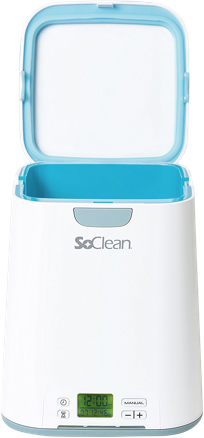 No Water or Disassembly
The cycle runs for just 7 minutes, followed by a 2-hour rest period.
Technology You Can Trust
Blending the beauty of science with the power of nature for unparalleled maintenance.
Fast + Easy
Automatically starts when you place your sleep equipment in the chamber and close the lid.
SoClean 2 Complete Bundle
Try the SoClean 2 Complete for special bundled savings! Includes the SoClean 2, our 3 top adapters, an additional Cartridge Filter Kit, Unscented Wipes, and an 8oz Bottle of Prewash. This specially-curated selection has everything you need to keep your sleep equipment fresh.
Shop Now
SoClean 2 helps provide peace of mind for millions
No need to disassemble sleep equipment every day and it's 100% waterless.
Close the lid and go. SoClean 2 starts automatically after you place your sleep equipment in the chamber and close the lid.
Easy one-time setup. Compatible with all popular types of sleep equipment.
"Great product. It does exactly what it was designed to do. Highly recommended"
George
Rated 5.0 / 4,494 Reviews
"Love my SoClean! It [maintains] my equipment easily and fast."
Kathy
Rated 5.0 / 4,494 Reviews
"Very easy to use. Bought it for my wife, she loves it, now I'm buying a second one for me."
Keith
Rated 5.0 / 4,494 Reviews
Sleep More Soundly
with SoClean 2
SoClean 2 naturally maintains every part of your sleep
equipment. Use it in the morning when you wake up so
you don't have to worry while you sleep.
Just place your sleep equipment inside
No disassembly required. Automatically starts when you place your equipment in the chamber and close the lid.
You can use the SoClean 2 without needing to take equipment apart every day. Does not require water in order to ensure your equipment remains completely dry.
Now includes our 3 top adapters in the box!
Included with your SoClean purchase:
3 Top SoClean Adapters

1 SoClean 2 Machine

1 1 oz. Pre-Wash (for cleaning equipment prior to first use)

1 Cartridge Filter, Check Valve Assembly (6 month replacement schedule; genuine SoClean Replacement Filter Kits are available here.)

1 Universal Injection Fitting

1 Side Slot Plug

1 Power Adapter

1 SoClean 2 User Manual
---
SoClean 2 Features:
New sleek design

Smaller footprint

Front display

Indicator lights throughout the cycle

Left or right hose insertion option
SoClean Benefits:
30-day risk-free trial. See details.

Peace-of-mind and easy-to-use

No need to take equipment apart on a daily basis

SoClean is 100% waterless
---
Contraindications for Use: Persons with underlying lung diseases, such as asthma and chronic obstructive pulmonary disease (also known as COPD, which includes emphysema and chronic bronchitis) and those with cardiovascular disease may be sensitive to ozone and should consult with their physician before using this product.
SoClean 2 is eligible for FSA and HSA reimbursement. If you have an FSA or HSA debit card, you can use it on soclean.com.
The SoClean 2 requires that you change the filter and the check valve every 6 months. A Cartridge Filter Kit containing both needed items can be purchased here.
| | |
| --- | --- |
| SKU | SC1200-SB |
| Weight | 7 lbs |
| Dimensions | 7.875 X 7.25 X 8.875 in |
| UPC | 00858242007550 |
Changing the Filter and Check Valve (Filter Kit)
SoClean 2 Timer and Notifications
Support Information: See the User Manual, setup videos, FAQs, and Warranty information on the SoClean 2 Support Page.
Our EcoSystem Of Clean™
Each product in the SoClean EcoSystem works in harmony with the other to help create a clean home environment for you and your family.
O3 Smarthome
Cleaning SystemTM
O3 Self-Cleaning
HumidifierTM
O3 Smartphone
DisinfectorTM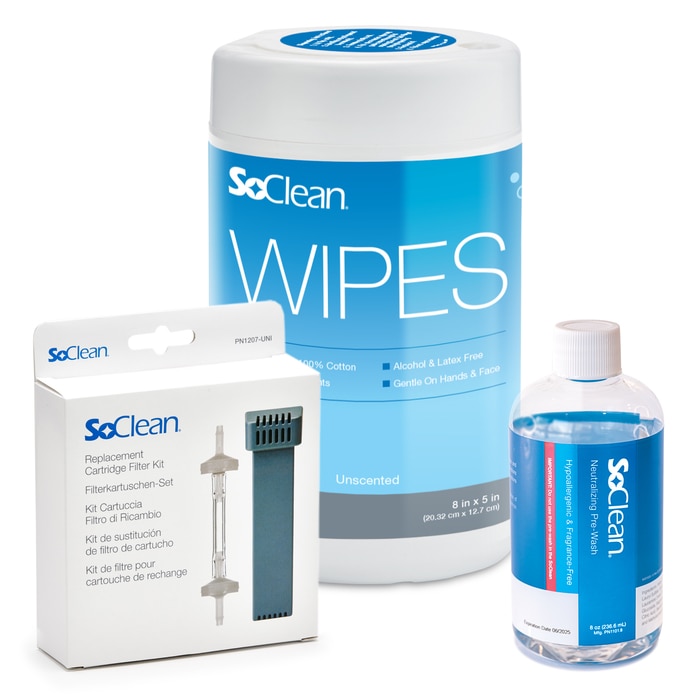 Save vs. buying separately! Everything you need to maintain your SoClean 2 and equipment. Comes with one replacement SoClean 2 Cartridge Filter Kit, one container of Unscented Wipes, and one 8-oz. Neutralizing Pre-Wash.
Shop Now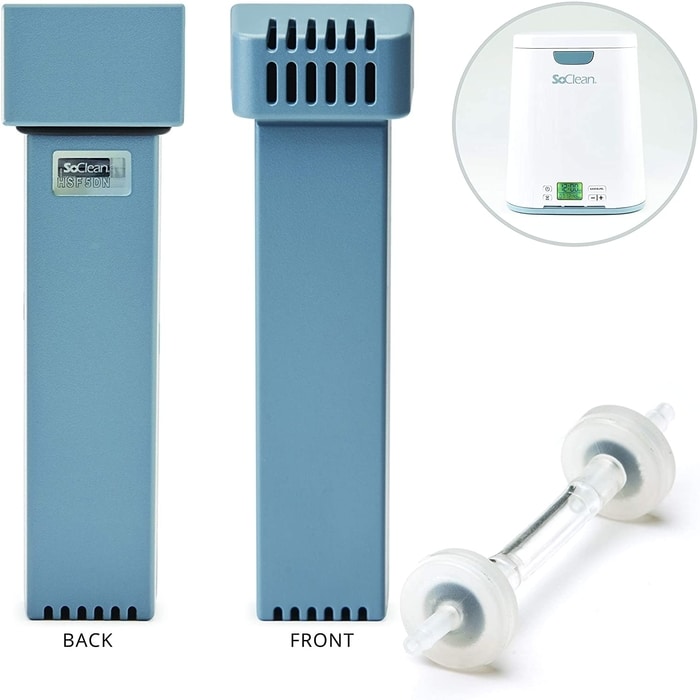 Replacement Cartridge Filter and Check Valve Assembly for SoClean 2.
New! Subscribe to Save 15% - with free shipping on scheduled deliveries.
Shop Now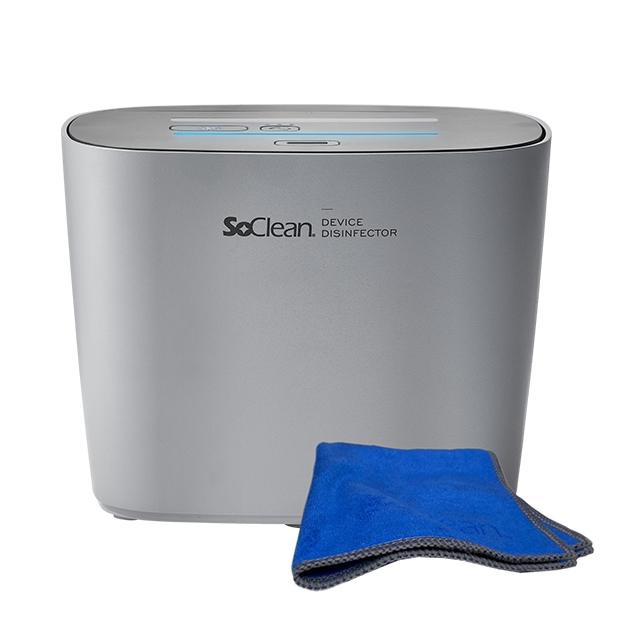 Harnessing the power of Activated Oxygen Technology (O₃) the SoClean Device Disinfector™ and the SoClean PowerWipe™ work together to create a safe and natural cleaning system for your home and family.
Shop Now
Shop SoClean Replacement Filter Kits
Replacement Filter and Check Valve Assembly
$30 One-time purchase
$25.50 Subscribe to Save 15% | 4, 6 or 12 month subscription
Shop Now
What's In the Box?
(1) SoClean 2 Machine
(3) Top SoClean Adapters
(1) 1 oz. Pre-Wash
(1) Cartridge Filter, Check Value Assembly
(1) Universal Injection Fitting
(1) Side Slot Plug
(1) Power Adapter
(1) SoClean 2 User Manual
Two-year manufacturer's warranty