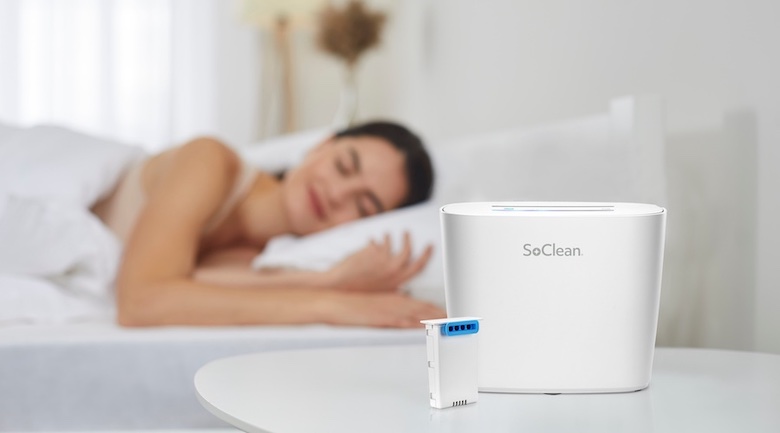 So, you're the proud new owner of a SoClean 3 device. Congraulations! Welcome to an upgraded daily routine that's sure to provide you peace of mind. You're well on your way to a better night's sleep knowing that your sleep equipment is fresh and ready to use.
SoClean is all about saving you time and energy—we want to make your life simpler, not more complicated. That's why we made sure that the SoClean 3 device is easy to use and maintain at the highest level. There's just three things to remember about your SoClean 3 device.
#1: Change Your Filter Regularly
If you want to keep your SoClean running at peak performance, the most important thing to remember is to change your filter regularly. If you use your SoClean daily (which you should!), you should replace your filter every six months. But we know how calendars fill up, and you don't need one more thing to mentally keep track of. That's why your SoClean 3 device will display an alert one month before it's time to replace your filter—an easy reminder to get a new replacement filter.
How to change your SoClean 3 device filter
When it's time to replace the filter, you'll see a flashing amber filter icon on the control panel. From that point, you have 30 days or 30 uses (whichever comes first) to replace the filter. To avoid disappointment, purchase your filter from SoClean.com to make sure it's authentic. There are some counterfeit filters through online retailers that won't work with your SoClean 3 device.
When you're ready, changing your SoClean 3 device filter is as easy as 1-2-3.
Open the filter door—on the back of your SoClean 3 device—and remove the old filter.
Insert the new filter into the slot, making sure that the blue rubber gasket is facing the chamber.
Close the filter door. All done!
#2: Don't Forget to Use Your Fresh Air Cycle
If you want to make the most of your SoClean 3 device, you can't forget about the Fresh Air Cycle. It's optional, but it's a great way to make your sleep equipment feel even more refreshed. The short, five-minute cycle freshens up your sleep equipment after running a Maintenance Cycle. Running a Fresh Air Cycle doesn't reduce the life of your filter, either, so it's purely a bonus. Plus, if you ever forget to run a Maintenance Cycle, the Fresh Air feature is a lightning-quick way to refresh your equipment before bed. (Just remember: You can only run three Fresh Air cycles before you need to run a Maintenance Cycle. Your device will prompt you when it's time!)
How to set up a Fresh Air Cycle
To set up a Fresh Air Cycle and refresh the air for your sleep equipment, just follow these directions.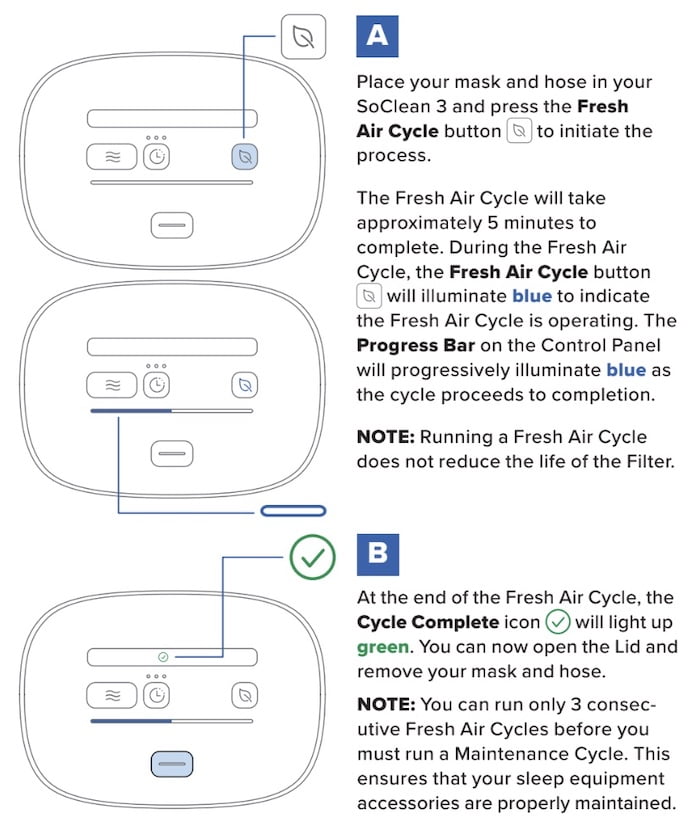 #3: Set Cycle Delays to Fit Your Lifestyle
Between work, family, chores, hobbies—you've got enough going to keep track of! SoClean's Cycle Delay feature makes it seamless to integrate Maintenance Cycles into your daily routine. You can delay your cycle time to operate at a convenient time for you.
How to set a delay for your Maintenance Cycle
You can delay your Maintenance Cycle by two, four, or eight hours. Here's how to do it: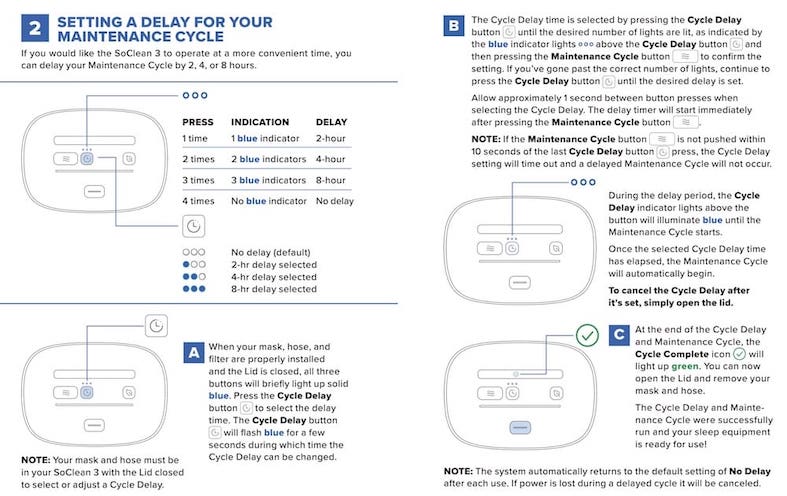 With your SoClean 3 device, you can rest easy knowing you're taking the best care of your sleep equipment—and your health. Keep these three simple tips in mind to keep your SoClean 3 device running smoothly and working for your lifestyle—and enjoy your new elevated maintenance routine.