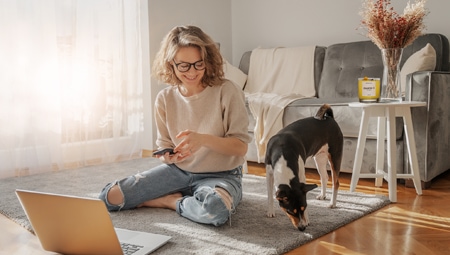 SoClean: Holistic health, Made Easier
Trying to live a healthy life isn't always easy. Shopping for products can feel overwhelming, with hundreds of options all boasting different benefits. And, with busy lives and responsibilities, it's not viable to spend hours researching and vetting every product you use to make sure they're fit for your family and home.
That's where SoClean comes in. We're committed to bettering lives, and every product you and your family use makes a difference.
Our mission is to make it seamless for you to find the best products to keep your loved ones healthy and give you the ultimate peace of mind. The SoClean Marketplace makes it easy to find healthy, safe, and effective products that you're sure to fall in love with. We have a strict list of criteria for brands and vendors, so you can rest easy knowing that every listing is sustainable, innovative, stellar, and trusted.
Browse our expansive hand-picked product offerings—everything from nontoxic cleaning products to superfood snacks to comfortable bedding—and start living more sustainably with just the click of a button.
Benefits of SoClean Marketplace
Increased Transparency
Ever bought something online only to find that it didn't arrive quite as expected—or maybe the company wasn't as reputable as you thought? SoClean Marketplace helps you buy from established businesses. Our sellers are committed to delivering a quality product and a positive brand experience. You can even browse verified reviews from other buyers to shop with confidence.
Purchase from Brands You Can Trust
We've done the hard work of vetting every single vendor listed on our Marketplace. As a result, you'll find brands committed to selling reliable products that satisfy and delight every customer. Say goodbye to the hassle of researching companies and figuring out what's legit or not. Buying from trustworthy brands has never been easier.
Efficient, Seamless Shopping Experience
We're your one-stop-shop for all the products you need to live a healthy, sustainable lifestyle easily. Even better: you can shop from the comfort of your home.
We know that your time is precious, so we've set up our platform to make it easy to find all of your favorite products. Buy directly from vetted brands with one shopping cart and seamless transactions. And if your experience isn't exceptional, our dedicated support team is on hand to help make things right.
Curated Products You're Sure to Love
Here at SoClean, we've been committed to bettering lives for over a decade. And we're so excited to build on our trusted reputation to bring our Marketplace to life.
All of our products are tested and reviewed by real humans who care about sustainability and quality, just like you. We're taking the guesswork out of investing in products that are good for you and for the world. Try new products with certainty. After all, we only list what we love—and what we know you'll love, too.
Why SoClean is Your New Go-to Online Marketplace
Looking to create a healthy home? Get started with the SoClean Marketplace. We understand the value of sustainability, and we never compromise quality. Start shopping today and enjoy these benefits:
Products and Brands Committed to Healthy and Clean Living
It's never been more critical to invest in great products and brands that align with your values. But it's also never been more challenging. With thousands of companies out there, it can be hard to find ones truly committed to sustainable, eco-friendly, nontoxic products that are safe and effective. That's why we hold each of our vendors to clear criteria, with a rigorous research and review process to ensure that they meet our high standards.
No Need to Navigate Through Products, Sellers, and Reviews
It shouldn't be confusing or time-consuming to find sustainable, effective products that live your values. Find reputable products with ease and make informed purchasing decisions without spending hours sifting through reviews. We take the guesswork out of shopping, leaving you to focus on the more important things in life.
Tried, Tested, and Reviewed by Real People
It might be nerve-wracking to try out a new product, especially when purchasing online. Will it be as effective as you hope? Is it actually nontoxic? Concerns like this helped shape our Marketplace's mission: to make it easy and stress-free to buy innovative, high-quality products that fit your needs and your values.
The people behind SoClean have tested each and every one of the products that we list to make sure that it meets our quality and sustainability standards. If we didn't love it, we didn't list it! We know how important it is to have a healthy home—and we want to make it easier than ever to make educated decisions that keep your family healthy and safe.
Products Shipped Direct from the Brand
Shop with confidence by purchasing directly from the brand. We source our products directly from verified companies to ensure that your shopping experience is trustworthy, high-quality, and everything you expect it to be.
Get the Best Online Marketplace Experience with SoClean
It can be hard—or even scary—to trust online marketplaces. Sorting through products, sellers, and reviews just to take a chance on a product that might not fit your needs? There's a better way—and it's SoClean's Marketplace. With high-quality products, vetted brands, and strict sustainability standards, we take the guesswork and the stress out of shopping. We're here to help you enhance your home and lead a healthy, safe, and sustainable life. As we discover new products we love, we share them with you, with new brands regularly being added. Welcome to the SoClean Marketplace.