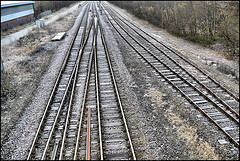 In the wake of a deadly train accident that occurred in the Bronx this past December, the Metro-North railroad, which provides daily service between New York City and Connecticut, is seeking to increase its efforts to combat sleep apnea.
According to the Poughkeepsie, Journal, Aaron Donovan, a spokesman from Metro-North, confirmed that the railroad is taking steps toward establishing a sleep apnea screening program, but added that nothing has been decided yet.
The December crash left four people dead and dozens injured. It was later determined that the engineer suffered from a severe case of previously undiagnosed obstructive sleep apnea (OSA). While the exact cause of the incident is still unclear, the source reports that the engineer recalled feeling "dazed" in the moments leading up to the crash.
This is characteristic of people who suffer from OSA, a disorder that causes them to stop breathing numerous times during sleep and can prevent them from getting enough uninterrupted rest to function properly throughout the day.
"People with sleep apnea, they fall asleep at stoplights, they fall asleep at meetings during the day," Dr. Gregory Belenky, director of the sleep and performance research center at Washington State University, said in an interview with the news outlet. "They'll deny any sleepiness and nod off right in front of you."
If Metro-North does end up establishing sleep apnea screening, the source notes that it will likely include questioning engineers about their snoring habits and measuring their necks, as frequent snoring and large necks are common signs of the disorder.