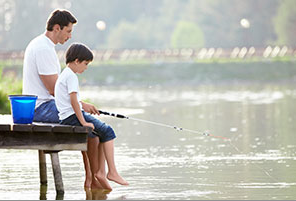 Father's Day is right around the corner, so it's time to start thinking about what you're going to get your dad to show him how much you appreciate him. We're sure you've gone over plenty of gift ideas in your head, but have you thought about how much your dad could use a SoClean® 2?
Sleep apnea is common among adult males
There are 18 million Americans who have been diagnosed with sleep apnea, a disorder that causes people to stop breathing during sleep. If left untreated, sleep apnea can lead to serious health complications, including stroke, heart disease and diabetes.
According to Mayo Clinic, men are twice as likely as women to suffer from this disorder. While sleep apnea can occur at any age – even as early as childhood – the source notes that it occurs most significantly in men over the age of 60.
This means that many dads from all over the country are living with sleep apnea – and yours could be one of them.
Treating sleep apnea
The good news is that sleep apnea is highly treatable. One of the most common methods of treatment is continuous positive airway pressure therapy (CPAP), which is a machine that prevents the airway from collapsing, enabling people to breathe more easily while they sleep.
However, in order for CPAP therapy to be effective, it's imperative that users keep their equipment clean and sanitized. Unfortunately, this can be time-consuming, causing people to neglect cleaning their CPAP equipment.
The SoClean® 2 makes cleaning CPAP equipment a breeze
The SoClean® 2 is an automated CPAP equipment cleaner and sanitizer. Featuring the same sanitization process used in water purification, hospitals and produce handling, the SoClean® 2 eliminates 99.9% of CPAP mold, bacteria and viruses. It doesn't require water or any messy chemicals, nor does it require disassembly. All your dad has to do is place his CPAP equipment into the SoClean® 2 and press a button. That's really all there is to it.
Give Dad a SoClean® 2 this Father's Day
The SoClean® 2 will save your dad valuable time each day – and keep him healthy. It's the perfect gift for anyone who uses a CPAP machine to treat sleep apnea.
Click here to learn more about the SoClean® 2 and how it can help your dad!