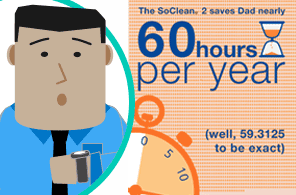 Sleep apnea affects upwards of 18 million Americans – and your dad might be one of them, as it's particularly common among middle-aged men. While this disorder – which causes people to stop breathing multiple times during sleep – has been linked with some serious health issues, the good news is that it's highly treatable with the use of continuous positive airway pressure (CPAP) therapy and other methods of treatment.
CPAP machines work by increasing air pressure in the throat so that the airway doesn't collapse, allowing sleep apnea sufferers to breathe more easily during sleep. However, in order for CPAP therapy to be effective, users are advised to clean their equipment on a daily basis. This also prevents the buildup of germs, which can lead to respiratory infections.
Unfortunately, cleaning CPAP equipment manually can be time-consuming, as it requires disassembling the different parts and cleaning them by hand. But the good news is that it doesn't have to be this way. There's a much more efficient solution: the SoClean® 2 CPAP Cleaner and Sanitizer.
So, just how much time does the SoClean® 2 save people? We wanted to get to the bottom of this, so we created this helpful infographic, which shows you how much time you can save your Dad by buying him the SoClean® 2 – and what he could be doing with all that extra time.
This Father's Day, let SoClean® do the work so Dad can go play. Give him a gift that will keep him healthy so that his sleep apnea doesn't get in the way of him doing all the things he loves.