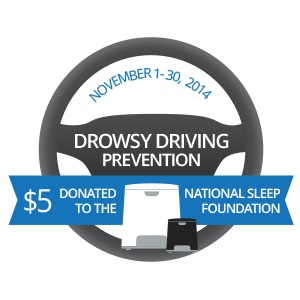 We're excited to announce that that we'll be making a special donation to the National Sleep Foundation (NSF) in recognition of Drowsy Driving Prevention Week, an annual public awareness campaign that the organization sponsors.
For every SoClean and SoClean 2 Go sold in the month of November, Better Rest Solutions will donate $5 per sale to the NSF. Additionally, we will donate $1 for every 10 individuals (up to $2,500) who pledge to take a stand against drowsy driving at http://bit.ly/StopDrowsyDriving.
Why the big focus on drowsy driving prevention?
November 2-9 is Drowsy Driving Prevention Week. The National Highway Traffic Safety Administration estimates that drowsy driving causes 100,000+ crashes per year, resulting in approximately 40,000 injuries and 1,550 deaths.
The 18 million+ Americans who have sleep apnea – a disorder that causes people to stop breathing in their sleep – are at high risk of drowsy driving-related car accidents, as one of the main symptoms of sleep apnea is excessive daytime sleepiness. The American Academy of Dental Sleep Medicine reports that drivers are 15 times more likely to be involved in a deadly car accident when they have excessive daytime sleepiness.
The good news is that there are highly effective methods of treatment for sleep apnea, such as CPAP (continuous positive airway pressure) therapy. However, keeping CPAPs clean and sanitary is essential to CPAP functionality and compliance. We created the SoClean and the SoClean 2 Go travel size CPAP cleaner to make it easier than ever for CPAP users to safely and naturally clean and sanitize their equipment.
So this November, buy a SoClean or SoClean 2 Go for yourself or one of your loved ones and help us support the NSF as it continues to promote awareness of drowsy driving. And don't forget to take the pledge against drowsy driving at http://bit.ly/StopDrowsyDriving!