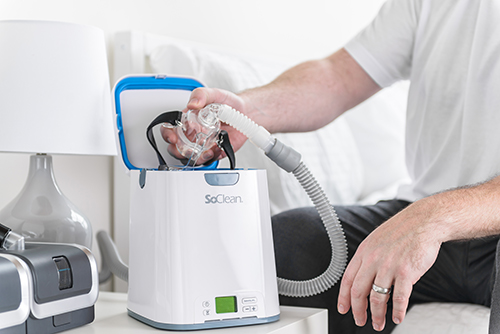 Maintaining a clean CPAP machine is one of the most important parts of CPAP therapy. Frequent CPAP cleaning will keep your equipment working properly and prevent you from breathing in harmful pathogens that can make you sick.
Need to know more about effective CPAP cleaning? Check out these basic dos and don'ts.
CPAP Dos
Do develop a CPAP cleaning routine and stick to it. This way you'll get in the habit of cleaning CPAP equipment.

Do clean all your CPAP supplies, not just your mask.

Do make sure your CPAP equipment dries completely after cleaning. Otherwise, it can become a breeding ground for mold and bacteria.

Do follow CPAP cleaning instructions provided by the manufacturer of your CPAP device.
CPAP Don'ts
Don't use bleach or harsh cleaners to clean CPAP. It's unhealthy to breathe in those harmful chemicals, plus they can damage the materials of your mask.

Don't run CPAP equipment through the dishwasher. With the exception of certain accessories like humidifier chambers, cleaning CPAP equipment in the dishwasher can warp your supplies.

Don't dry CPAP equipment in direct sunlight or the tubing will become yellow and brittle.
While soap and water is considered a common CPAP cleaning method, it is a tedious process that can make it hard to follow all of the "Dos" of CPAP cleaning. However, using an automated device like the SoClean CPAP Cleaner and Sanitizer makes the process of cleaning CPAP equipment a breeze.
SoClean...
Destroys 99.9% of common CPAP germs in your mask, hose and reservoir

Won't cause any damage to your CPAP machine

Uses a 100% safe and natural gas called ozone to clean CPAP equipment

Keeps your CPAP dry the entire time

Features a fully automated CPAP cleaning process easy to incorporate into your daily life
Using the SoClean CPAP Cleaner and Sanitizer will maintain your CPAP and help you stay healthy. It's the faster, easier, more effective way to clean CPAP equipment. Click here to learn more about the SoClean and try it risk-free today.