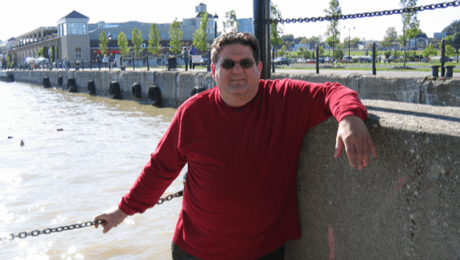 At SoClean, there is nothing better than hearing from our customers about how much our product has improved the quality of their lives. One of these happy SoClean customers is Patrick Donovan, age 58. "I need to tell you that SoClean is a fantastic company, and I'm so honored to be a part of such a great family," says Patrick. "Everything's shipped on time, my filters are sent every six months, and I couldn't be happier." Diagnosed with sleep apnea 10 years ago, he credits our product with greatly improving his CPAP experience. Here is Patrick's SoClean story:
Tell us about your sleep apnea: your diagnosis, experience with it and how CPAP therapy has affected your life.
I was diagnosed with sleep apnea back in 2005, but I know I had it long before then. The Veterans Administration gave me a sleep study back in D.C. at the hospital on Irving Street and gave me my first CPAP. I couldn't believe the incredible difference. Over time, however, something was wrong. It was working but it wasn't, if you know what I mean. When I moved to Tennessee, I started having blackouts, especially while driving, and I'm not kidding, this was scary. I'd be driving on the highway and lo and behold, I hear a loud horn and it's a pickup truck barreling down on me because I had crossed over into oncoming traffic. I quickly swerved and got out of the way before a head-on collision ensued at 60 mph. This happened three more times before I went into Nashville's Vanderbilt VA Teaching Hospital with massive cellulitis on my left leg. I'm not saying a dirty CPAP was the cause, but I will tell you, it may have been a contributing factor. I was rushed into the ICU with a blood pressure that was 77/48; my white blood cell count was over 30,000 and should only be 7,000; it was hard to breathe; my left leg and groin blew up like a balloon, my creatinine levels were through the stratosphere; and my kidneys shut down. Shortly after getting out of the hospital, I moved to the Seattle area, and the VA here gave me another sleep study where they gave me a brand new CPAP. Suffice it to say, those horrifying blackouts stopped and no one knows, to this day, what the root cause was.
How did you hear about SoClean?
On the TV, radio and SiriusXM in my car. I called because I heard it so much; it worked! They say after seven times, you get the urge to call and surely I did!
How did you clean your CPAP equipment prior to SoClean?
By hand! I'd soak everything in white vinegar and water, and clean the tube, mask and reservoir every couple weeks. Who has the time to clean everything every day?
How has it changed the way you clean your CPAP machine and/or improved your life?
Dramatically! I sleep better, put the mask in the device and walk away! POOF! At night, the green light is on and I know I'm ready for a great night's sleep. Thank you, SoClean! Take it away Bill! Do you have a SoClean story? We'd love to hear it! Please reach us at info@soclean.com or (800) 341-7014. If you are diagnosed with sleep apnea and prescribed CPAP treatment, a SoClean Automated PAP Cleaner & Sanitizer Device might be a welcome way to make your daily routine simpler, and better.