The SoClean Air Purifier+ with Celios G200 Advanced Technology is effective at capturing the SARS-COV-2 virus.*
Lab-proven filtration technology removes allergens, mold, and captures up to 99.99999% of viruses and bacteria.*
FREE
SHIPPING
30-DAY
FREE TRIAL
2-YEAR
WARRANTY
UNLIMITED
SUPPORT
US INDEPENDENT
LAB TESTED
Unparalleled Purification + Portability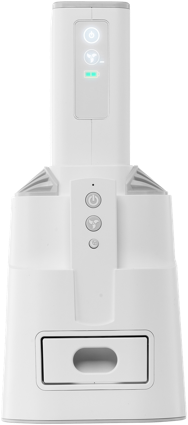 Advanced 3-Stage Filtration
Captures up to 99.99999% of viruses and bacteria.*
Better than HEPA
Up to 3,000 times more efficient than HEPA standards.
Portable
Removable core can travel from room to room.
4-Level TurboFlo™
4 fan speed settings — from a gentle "white noise" to a fast "power scrub" all with the same level of purification.
Creates the purest air for your home and family
Generates cleanroom level clean air
Captures particle matter down to 10 nanometers
No portable purifier removes odors, volatile organic compounds, pollution and dangerous ultrafine particles better than the SoClean Air Purifier+. It's not even close
Prevents recirculating dangerous particulates or VOCs back into your room
"Sleek, well designed air purifier that is easy to assemble, maintain, and which efficiently cleans the surrounding air of dust and pollutants."
Harriete
Rated 5.0 / 25 Reviews
"We keep it running and plugged in in the open area of the kitchen/living room and the air is always fresh. The amount of dust has dropped dramatically. When we DO take it out of its charger, the purifier will run on battery for many hours."
Francis
Rated 5.0 / 25 Reviews
"The air purifier works perfect better than expected especially for Ultrafine dust."
Gerrard
Rated 5.0 / 25 Reviews
"Great air cleaner and does a nice job. It was money well spent."
John
Rated 5.0 / 25 Reviews
The Power Of Our 3-Stage Filtration Technology
NEXT GENERATION AIR PURIFICATION SYSTEM PRODUCES CLEANROOM-QUALITY AIR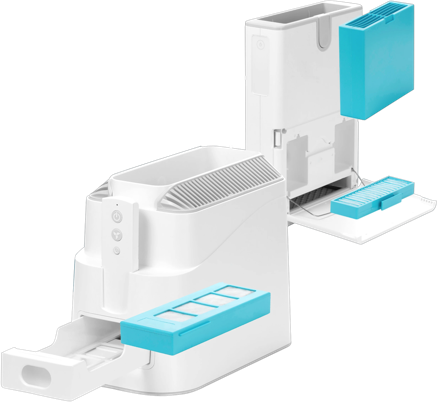 Granulated Activated Carbon Filter
Pre Filter
Patented
Core Filter
Oversized filter for adsorbing gases, VOCs, and odors.
Removes larger air pollution particles including dust mites, pollen, and mold spores.
Captures ultrafine particulates down to 10 nanometers in size. Delivers cleanroom-quality air without generating any foul odors or outgassing.
Captures up to 99.99999% of particulate pollution.**
Transparent Testing + 3rd Party Verification.
Learn More
Pure Air Wherever You Go
Lightweight and portable — because we get it: home offices become nurseries, kitchens become conference rooms. We go where you go.
PARTICULATES
VOCs
IRRITANTS
4-Level TurboFlo™
Allows you to set your fan speed at 4 levels for daily purification or specific needs such as smoke in the kitchen, or pet odors. At each level, super-fast, turbulent airflow moves through our 3-stage filtration process, efficiently purifying air within an airtight assembly.
The SoClean Air Purifier+ is different. Think of it as your own personal source for continuous pure, filtered fresh air.
The SoClean Air Purifier+ features a cordless design, so you can breathe clean, pure air wherever your day takes you. Easy to maintain and assemble—no tools required.
Fan Speed:
You can adjust the SoClean Air Purifier+ fan speed to best meet your needs. To select the fan speed you desire, lightly press the fan speed button on the control panel or Remote Control.
The 4 fan speed settings allow you to either increase or decrease the rate of airflow while maintaining the purity of the air generated by the device at every speed.
Fan speeds are louder on the highest fan speed settings 3 & 4. Use speeds 3 & 4 in unoccupied rooms for the fastest airflow possible and for a quick "scrub" of the air when, for example, you wish to remove odors after cooking.
Once the scrub is completed, a consistent use at fan speed 1 & 2 is perfect for everyday use. Use Fan speeds 1 & 2 while you're in the room for pure air generated as quietly as possible.
The SoClean Air Purifier+ will continue to capture particles at the same efficiency regardless of the fan speed. The fan speed only decreases the amount of time needed for an initial clean of the air, but for continued use and maintenance of the air in your room, the lower fan speeds are preferred.
SoClean Air Purifier+ Features:
3-stage filtration process

Airtight assembly

Up to 24-hour battery life

Sleek, modern design

Remote control operation

2-year warranty

LED panel alert when the filters are due to be changed
SoClean Air Purifier+ Benefits:
Up to 3,000 times more efficient than HEPA standards

Generates cleanroom-level clean air

Captures particulate matter down to 10 nanometers

Prevents recirculating dangerous particulates or volatile organic compounds back into your room

Small footprint to fit almost any space

Quickly eliminate odors fast and at the source

30-day, risk-free trial (see details)

Easy to assemble—no tools required
Included with your SoClean Air Purifier+ Purchase:
G200 core

Main stand

Mini stand

8-month supply of filters (1 Core Filter, 2 Carbon Filters, 2 Pre Filters)

Lithium ion smart batteries

Remote control

Power adapter

AAA batteries

User manual
---
| | |
| --- | --- |
| SKU | G200 |
| Power Requirements | DC input: 15V, 4A; Power brick: 100-240V, 50-60Hz, 1.5A |
| AC Power Usage | Idle: 0.6W, Speed 1: 2.5W, Speed 2: 3.8W, Speed 3: 6.5W, Speed 4: 22W |
| Weight | G200 Core Unit without Batteries: 3 lb., 5 oz. |
| G200 Core Unit with Batteries: 4 lb. | G200 Core Unit with Batteries: 4 lb. |
| G200 Main Stand: 3 lb., 10 oz. | G200 Main Stand: 3 lb., 10 oz. |
| Mini Stand: 4 oz. | Mini Stand: 4 oz. |
| Dimensions | (with Main Stand): 14.125" x 5.75" x 10.5" |
| (with Mini Stand) 12.375" x 4" x 9.5" | (with Mini Stand) 12.375" x 4" x 9.5" |
| Noise Level (dBA) | In G200 Main Stand: Speed 1: 34, Speed 2: 46, Speed 3: 56, Speed 4: 64 |
| In Mini Stand: Speed 1: 36, Speed 2: 52, Speed 3: 62, Speed 4: 71 | In Mini Stand: Speed 1: 36, Speed 2: 52, Speed 3: 62, Speed 4: 71 |
| 3-Stage Filtration | Carbon Filter, Pre-filter and Core Filter |
| Filter Life Expectancy | 24-Hour Use—Pre Filter: 2 months, Carbon Filter: 2 months, Core Filter: 4 months |
| 12-Hour Use—Pre Filter: 4 months, Carbon Filter: 4 months, Core Filter: 8 months | 12-Hour Use—Pre Filter: 4 months, Carbon Filter: 4 months, Core Filter: 8 months |
| Product information image | |
| UPC | 850015042003 |
SoClean Air Purifier+ - How it Works
SoClean Air Purifier+ Setup
SoClean Air Purifier+ - Replacing Your Filters
SoClean Air Purifier+ Replacement Filter Kit
Each 5-pack Filter Kit contains one Core Filter, two Carbon Filters, and two Pre-Filters
$68.95 One-time purchase
Shop Now