SoClean 3 Authorized Filter 2-Pack
Free Standard Shipping!
Special offer includes two Filters for SoClean 3 Machines and FREE shipping!
Keep your SoClean 3 running at peak performance with this genuine Authorized SoClean 3 Replacement Filter.
Do you have a SoClean 2? Click here for Authorized SoClean 2 Filter Kits.
Please note, this product is not eligible for any additional discounts or promotions.
This Special Offer contains TWO individual SoClean 3 Filters with FREE shipping and an additional discount!
Want to keep your SoClean® 3 running at peak performance?
It's simple - just change your filter! The filter should be replaced every six months if you use your SoClean daily. No need to mark your calendar. We get it. You don't need one more thing to keep track of. Your SoClean 3 will let you know when it's time for a replacement by displaying an alert about one month early—plenty of time to get a new replacement filter. And as an added layer of protection? Your SoClean 3 won't operate if the filter is expired, missing or counterfeit.
The filter converts enclosed air within the system to regular oxygen as it leaves the SoClean 3 chamber. Changing your filter regularly keeps your SoClean 3 in top working order. This filter is suitable for the SoClean 3 with "SC1400" in the serial number.
How to change your filter
Open the filter door and remove the old filter.
The door is on the back of your SoClean 3.
Insert the new filter into the slot.
Make sure the blue rubber gasket is facing the chamber.
Close the filter door.
That's it. You're done. Yes, it really is that easy!
Beware of lookalike or counterfeit filters that may potentially damage your SoClean machine and void the warranty.
Your SoClean 3 device has been designed to work only with authentic SoClean 3 Filters. You will not be able to operate your SoClean system without an authentic SoClean 3 Filter.
Authentic SoClean filter packaging includes labeling with part number, lot number, expiration date, and confirmation of SoClean as the manufacturer. Making sure your purchase includes this information can ensure you are purchasing an authentic filter guaranteed to work correctly with your SoClean machine.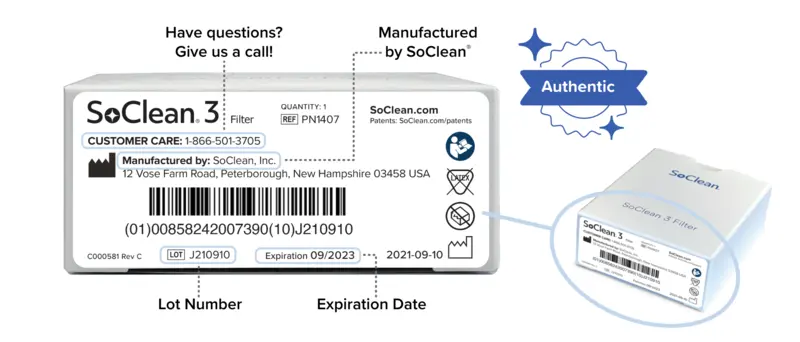 When shopping on SoClean.com, you are assured of fully warranted, genuine SoClean replacement parts. You can also choose from many other useful products, including the SoClean 2 Care and Maintenance Kit and the SoClean 3 Care and Maintenance Kit, which both come with filter, neutralizing prewash, and wipes.
For any questions about the authenticity about a filter, contact SoClean Customer Care.
You may also like
Limited Time! Save $450!

Lab-proven filtration technology removes allergens, mold, and captures up...

Save $4!

Fragrance-free, hypoallergenic soap for hand-washing equipment.

Each bottle contains 8...

Save $50 off MSRP!

FSA/HSA Eligible

Just released - upgraded and improved model...